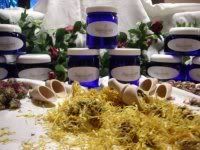 For all those people out there who are looking
for all natural, biodegradable and animal friendly
products your quest is over. You can pamper
yourself the all natural way with Annemarie's
All Natural Botanicals. Annemarie's products are made
of ingredients only found in nature. This line is comprised
of bath salts, soaps, message oils and soy candles.
Annemarie's soaps are made in small batches to insure
that you receive a product with optimal freshness and of
the best quality. The base oil which are used in most of the soaps
are Olive oil, Coconut oil, Palm oil and Shea butter.
Annemarie's All Natural Botanicals can be found online and at Topstitch Boutique.